Dr. Richard L. Strauss
September 17, 1978
The very first thing learned from this book of the Revelation was the identity of the most prominent person. It is the Revelation of Jesus Christ. We would expect to meet Him, therefore, very early in the book, to see Him in all His glory and majesty, and we are not disappointed. The major portion of the first chapter concerns Jesus Christ.
There are some who will read this description of the Lord Jesus quite casually and coolly. It won't make any difference to them. "So He was a Man. He lived. He died. Maybe He rose again. So what?"
There are others whose hearts will rejoice as the glories of the Savior are unfolded before them. To them it will be exciting.
Why the difference? The Apostle Peter tells us what makes the difference: "Unto you, therefore, who believe He is precious" (1 Peter 2:7).
Jesus Christ may be to you just another Person who lived and died, and if that's so, you are probably still groping to find some meaning and purpose to life. Or He may be your personal Lord and Savior, the object of your affections, the center of your life, and if that's so, you know what real living is all about. The difference is Jesus Christ. So let's meet Him as He is revealed in Revelation chapter 1.
John introduces us to the Lord Jesus in verses 5-8. After this presentation, John himself encounters the risen Christ in a vision in verses 12-18. Look then at these two pen pictures of the Savior, John's presentation of Jesus and John's confrontation with Jesus.
1. John's Presentation of Jesus
(Revelation 1:5-8)
a. The Grandeur of His Person
(Revelation 1:5a, 8)
There are four titles of the Lord Jesus here, each of which tells us something about His person: the Faithful Witness, the First Begotten of the Dead, the Prince of the Kings of the Earth, and the Alpha and Omega.
As the Faithful Witness, He declared unto us everything that the Father wanted us to know (John 12:47). He could stand before Pilate near the end of His life and affirm confidently, "To this end was I born, and for this cause came I into the world, that I should bear witness unto the truth" (John 18:37). He has faithfully testified to us of the Father, and has sealed His testimony with His blood. He is the faithful witness, and we know that His witness is true. We can believe Him as He speaks to us through this book.
As the First Begotten of the Dead, Jesus Christ is revealed to be the victor over death and the guarantee that we too shall be raised never to die again. There had been a number of resurrections prior to our Lord's, but in every case the persons were restored to physical life, only to die again. Christ was the first to rise to a new kind of life, and His resurrection establishes the pattern for our own. Paul calls Him the first-fruits of them that slept (1 Corinthians 15:20). The first fruits of the harvest was a guarantee that there was more to come. He, in His life, is the guarantee that we, too, shall live.
While the first two titles refer to what is past, that is, His life and His resurrection, the third title refers to the future. When He comes again He will establish Himself as the Prince of the Kings of the Earth, the rightful ruler of this world. Today the kings of the earth sure aren't recognizing His lordship, but the day is coming when every knee shall bow and every tongue shall confess Jesus Christ as Lord, to the glory of God the Father.
The last title in verse 8--the Alpha and the Omega--reaches beyond the confines of time into eternity. While a similar description in verse 4 referred to the Father, most commentators feel that this one is being ascribed to the Son as it is in Revelation 22:13. Jesus Christ is one with the Father, the eternal God incarnate. He is Alpha and Omega (the first and last letters of the Greek alphabet, like A and Z to us). He is the beginning and the ending, who is, who was, and who is to come. He is the Almighty, a term attributed to the Father in 2 Corinthians 6:18 meaning all-powerful, omnipotent. What a wonderful Savior! Do you know Him? If you do, you can rejoice in the grandeur of His person.
b. The Greatness of His Work
(Revelation 1:5b, 6)
The next thought in the passage concerns what a wonderful Savior does and has done for us. Read Revelation 1:5. "Unto Him who loves us, and washed us from our sins in His own blood." There are three things here.
First, He loves us. Now the King James Version says "unto Him who loved us." I always used to look at that and think, I wish there was a passage of Scripture that tells me Jesus still loves me. I know He loved me when He went to Calvary's cross and died for my sins. That had to be love. "But God proved His love for us in that while we were yet sinners, Christ died for us." Nothing but love could have driven Him to the cross.
But we sing "Jesus loves me." Is there a verse that tells me that Jesus loves me in all my shame and sin? Yes, it's here in Revelation 1:5. Earlier manuscripts have a present participle, "the one loving us." The blessed and reassuring truth here is that He continues to love us in spite of our weaknesses, and failures, our sins and shortcomings, our selfishness and rebellion. He keeps reaching out in love, caring for us, providing for us, seeking to draw us to Himself in a precious fellowship that will satisfy the deepest longings of our souls. What a wonderful Savior! Do you know Him?
Of course, this eternal love sent Him to the cross, and so we have noted secondly what He did in the past. He washed us from our sins in His own blood. Some ancient manuscripts read "He loosed us" instead of "He washed us," but it makes little difference, for both are true. The point is, He took care of our sin problem. Absolutely and completely. He both cleansed us from sin's guilt and loosed us from sin's grip.
We who have trusted Him as our own personal Savior shall never suffer the eternal consequences of our sins, neither do we need to submit helplessly to the daily temptations to sin. The great work which Christ accomplished at Calvary is not only the provision for our forgiveness, but also the power for our deliverance from sin's enslavement. Have you availed yourself of these benefits? Have you put your confidence in Him for eternal salvation? Are you depending upon Him for daily victory?
Look at what else He has done for us. He has made us kings and priests unto God and his Father (verse 6), literally, "a kingdom, priests, unto God." Peter conveys a similar idea when he calls believers "a royal priesthood" (1 Peter 2:9). The exciting truth is simply this: Not only did His eternal love for us motivate Him to deal with our sin, it caused Him to elevate us to a high and noble calling. Did you know you were a priest? You don't have to put on a black suit. You don't have to wear your collar backwards. But you are a priest. You have unhindered access to His presence. You can intercede with Him on behalf of others. That's the function of a priest. Are you using that privilege?
c. The Glory of His Coming
(Revelation 1:7)
"Behold, He is coming with clouds, and every eye will see Him, even they who pierced Him. And all the tribes of the earth will mourn because of Him" (Revelation 1:7).
We have in that little verse a major preview of the entire book. It summarizes the major theme of Revelation: the second coming of Jesus Christ to the earth.
What a glorious event that will be! "Behold, He is coming with clouds." Clouds in the Scripture are often a symbol of glory (cf. Exodus 40:34--when the glory of the Lord filled the tabernacle; Matthew 17:5--when Christ was transfigured). So Matthew tells us that Christ will come in the clouds of heaven with power and great glory (Matthew 24:30).
Now there are some Bible teachers who believe that those clouds are really people, because in Hebrews 12 we are told about a "cloud of witnesses." That may be true; I don't know whether it is or isn't. Maybe when we come with Jesus Christ to the earth, robed in white, the inhabitants of the earth will see us as a great cloud.
At the second coming to earth, after the Great Tribulation, He shall come in full view of every earth dweller, including the nation Israel, here called they who pierced him (cf. Zechariah 12:10). The radiant glory veiled during his earthly life now openly displayed for all to see and all kindreds of the earth shall wail because of him. Their mourning will reveal their remorse and shame as they recognize Him for who He is, the Lord of glory whom they crucified and rejected, who even now returns to judge them. It will be a day of triumph for our glorious Savior when every person on earth shall behold and bow before His Sovereignty, but it will be a day of judgment and mourning for unbelievers.
The grandeur of the Person of Jesus Christ. The greatness of His work. The glory of His coming. That's John's presentation of Jesus. John has taught us a great deal about the Person of Jesus. And now John is going to be taught and we're going to share in what he saw because he's going to reveal it to us.
2. John's Confrontation with Jesus
(Revelation 1:12-18, 20)
a. His Authority
(Revelation 1:12-13, 20)
Having heard a voice like a trumpet (Revelation 1:10), John turned to see who it was who talked with him. Trumpets were usually used to get people's attention. They were used to call people into battle. And this voice sounded like a trumpet and it surely got John's attention.
Read Revelation 1:12 to find out what he saw. "I turned to see the voice that spoke to me. And being turned, I saw seven golden lampstands." The King James Version says "candlesticks." But that's not a very good translation because it implies that what he saw was one of those branched candlesticks like that which lighted the holy place in the tabernacle. But that's not what he saw at all. Rather, he saw seven separate candlesticks or lampstands. That facts is emphasized by the Lord walking among them (Revelation 1:13, 2:1).
But what do these lampstands represent? Down in verse 20 we are told: "And the seven lampstands which you saw are the seven churches."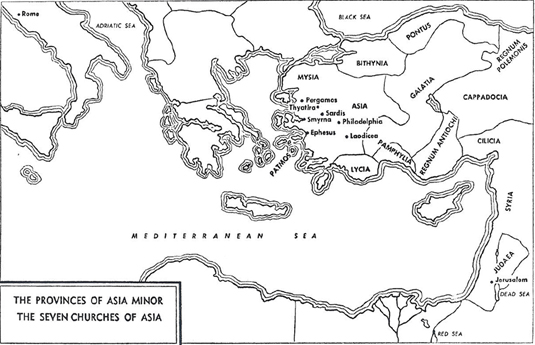 Click to enlarge
Is it not an appropriate thing that the churches are likened to lampstands? You remember in John 9:5 the Lord said, "As long as I am in the world, I am the light of the world." But what happened to the light when the Lord went back to heaven? Paul tells us in Philippians 2:15-16. We are now to be "blameless and harmless, the children of God, without rebuke, in the midst of a crooked and perverse nation, among whom you shine as lights in the world, holding forth the word of life."
That responsibility has now passed to believers banded together in local churches. That's what we're supposed to be in this church: a light. The church is to be a lampstand, a light. Every believer that is affiliated with a local church either adds or detracts from the light. Which are you doing? There is a sphere of influence in which you live. People look at your life. Do they see the light of Christ's life or do they see actions in your life that betray not light at all, but darkness. We read that Jesus is walking among the lampstands, examining the light. Jesus Christ is here today in the Person of His Spirit, and it's almost as though He were walking up and down the aisles, examining the lights. In some cases, the light isn't shining, because the life is not a testimony to the redeeming grace of Jesus Christ. God wants the light to be resplendently radiant as every individual believer brightly beams and boldly broadcasts the Word of truth.
What else did John see? "And in the midst of the seven lampstands, one like the Son of Man, clothed with a garment down to the foot, and girded about the breasts with a golden girdle" (Revelation 1:13).
"One like the Son of Man." There is no question about who this is. That's a Messianic title. It was used by Daniel in his prophecy of the Messiah (Daniel 7:13). It was the title the Lord Jesus preferred to use of Himself. He used the designation frequently through the Gospels. It is a term which emphasizes His humanity and His Messianic mission. The Lord Jesus Himself is walking in and out, among and around His churches (also cf. Revelation 2:1). Why is He doing that?
Well, look at His appearance and it will give us a clue as to what He is doing. First of all, He is clothed in a long garment. In the Roman culture in which John lived, the long flowing garment was the sign and symbol of authority. The master of the household and the men in positions of administration were so clothed, while the laborers wore short tunics so as not to restrict them in their work. The golden belt that gathered the garment around Him would likewise be a symbol of authority. It is interesting to note that this long flowing garment with its golden girdle also bears a marked resemblance to the garments of the High Priest in the Old Testament (Exodus 28), but again the picture would be one of authority. Jesus Christ is walking among His churches, as one in authority, as the rightful head, the Lord and Master. God gave Him to be head over the church (Ephesians 1:22), and He is exercising that prerogative.
b. His Antiquity
(Revelation 1:14a)
The next verse tells us that His head and His hair were white like wool, as white as snow. Here is an indication of His age. Christ was in the beginning with God; He is co-eternal with the Father. He is, as we have seen, the Alpha and Omega, who is, and who was, and who is to come (Revelation 1:8). This note of His antiquity would again establish His right to examine and evaluate the churches among which He walks. The eternal God is here, in the Person of His Son. God is speaking, with the wisdom of the ages, and He wants us to listen.
c. His Awareness
(Revelation 1:14b)
"And His eyes were like a flame of fire." This is symbolic language, of course. Christ doesn't have actual fire streaming from His eyes. John is beholding Him in a vision and describing what he sees in word pictures, but every picture has significance; every detail teaches us something important about our Savior. These flaming eyes portray the penetrating insight and keen judgment by which He searches out and lays bare the sins of His church. He has x-ray vision.
Nothing can escape His omniscience; no shortcoming can evade His knowledge. Seven times, in conjunction with every one of the churches in chapters 2 and 3, He says "I know your works" (cf. Revelation 2:2; 2:9; 2:13; 2:19; 3:1; 3:8; 3:15). We may be able to fool one another, but we cannot fool Him. He is aware of the hidden things of the heart; He sees the images projected on the screen of the mind; His vision illuminates the things done in the darkness and exposes the things done in secret. He says to us, "I know your works." He is examining our hearts right now, and His examination will become more searching as we move through His seven letters.
d. His Awesomeness
(Revelation 1:15, 16b)
"And His feet were like fine bronze, as if they burned in a furnace" (Revelation 1:15).
Bronze or brass in the Scripture is often symbolic of the righteous judgment of God. It was at the brazen altar where animals were judged for the sins of God's Old Testament people. It was the serpent of brass hung on a pole in Numbers 21 that pictured our Lord Jesus Christ who was hanged on a cross and judged for our sins.
But here He is judging, and He is judging His church. "For we must all appear before the judgment seat of Christ" (2 Corinthians 5:10). There is no condemnation for believers. There is no possibility we are going to lose our salvation. But even believers must experience a judgment for the quality of their Christian lives. It is a judgment that will determine our rewards. That judgment is foreshadowed here as Christ walks among the churches, examining and evaluating their spiritual condition. When He speaks, there will be no evading His judgment, for His voice will carry the thundering authority of the ocean breakers roaring against the beach.
It is an awesome sight and sound intensified even more by what we read in verse 16b, "and His countenance was like the sun shining in its strength." The brilliance and effulgence of His face was as the blinding light of the sun, and it struck John to his knees before Him and he fell at His feet as dead. Oh that God's children today might get a glimpse of Jesus Christ like this, see Him in all His majesty and splendor, in all His power and glory, in all His righteousness and holiness, and then fall before Him in total submission to His Word and His will.
e. His Administration
(Revelation 1:16a, 20)
Revelation 1:16 tells us that "He had in His hand seven stars." Now what are they? If you will drop down to verse 20 again you will discover that they are His angels of the seven churches.
While this is the word used for the supernatural ministering spirits who carry out God's bidding, the primary sense of the word is simply "messenger." It refers to an envoy, one who is sent to announce something. It may be that these messengers were men chosen by Christ to deliver His message to these churches. It is possible that they were leaders in those very churches--and that's what many Bible scholars believe. But whether they were angels or men, the important thing is that they are stars in His hand, instruments in His control, to announce His word of warning.
He is the rightful administrator of the churches, and He demonstrates that by controlling the men who deliver the message. They are the agents of His administration. Now that's a fearful thought. If these are really men, if they are really leaders in the church, it's a fearful thought for pastors and leaders to be called "instruments in His control." I know for a fact that there are days when I am not an instrument in His control, but that's what I want to be. By God's grace and through your faithful prayers, maybe that's what I can be. An instrument in God's control.
But look at the means of His administration. It is the Word of God. Revelation 1:16 says, "And out of His mouth went a sharp two-edged sword." Hebrews 4:12 leaves no doubt in our mind that this is the Word of God: "For the word of God is quick, and powerful, and sharper than any two-edged sword, piercing even to the dividing asunder of soul and spirit, and of the joints and marrow, and is a discerner of the thoughts and intents of the heart." It is His Word that will dissect our souls, discern our defects, demand our repentance, or declare our discipline.
f. His Assurance
(Revelation 1:17-18)
The picture we have seen is the Christ of judgment. It is a fearful one and it literally overwhelmed the Apostle John. But we learn that while Christ is stern, He is not harsh or unloving. Listen to His assuring words, "Fear not; I am the First and the Last; I am He who lives, and was dead; and, behold, I am alive for evermore. Amen. And I have the keys of hades and of death."
Hades was the general word for after-life to the mind of that day. Christ said that He holds the key to death, which is the termination of this life, and the key to life after death. The heart that trusts Him will find freedom from fear, fear of death or fear of the life after death.
Have you put your faith in Him as Savior from sin? Will you trust Him now?
Continue to RV-02A: Where is the Love We Knew? (Christ's Letter to the Loveless Church at Ephesus)