"It's God's Word. You can count on it!"
Those words echo in the memories of all who listened to Dr. Richard Strauss. His sincere manner of speech would ring with heartfelt conviction when he reassured people that the Bible is God's inerrant Word" ...and is useful for teaching rebuking, correcting and training in righteousness, so that the man of God may be thoroughly equipped for every good work." (2 Tim. 3:16-17).
During his 60 years, Richard Strauss loved God, and he loved to study His Word. He spent hours each week poring over the Bible, allowing the Holy Spirit to teach him so that he could teach others. Through his sermons, books and tapes, Dr. Strauss made God's eternal message relevant to thousands of people worldwide. He had a special gift for making the Bible come alive in a practical way.
And now, Dr. Richard Strauss's books and messages are available to you.
To contact us:
Spiritual Gold, Inc.
749 Willow Glen
Escondido, CA 92025
Phone: 760-737-7600
Fax: 760-737-7600
Email: info@spiritualgold.org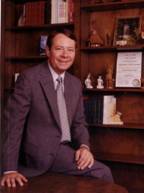 Dr. Richard L. Strauss, senior pastor of Emmanuel Faith Community Church in Escondido, CA for 21 years died of multiple myeloma (cancer of the bone marrow) September 11, 1993.
B.A. Wheaton College, 1954; Th.M. Dallas Theological Seminary, 1958; Th.D. Dallas Seminary, 1962; Served on U.S. Board of Directors of SIM International and member of the Board of Regents and Board of Incorporate Members at Dallas Theological Seminary.
View or download the book made from the journal entries of Richard and Mary Strauss as they dealt with his last illness:
Some of Richard's books have been republished - Win the Battle for Your Mind, Getting Along with Each Other and Decisions! Decisions! - How to Really Know the Will of God. To order, call toll-free: 888-338-7809 or visit www.ecsministries.org.
Sermon for the Month of April
Proclaiming the Cross

Click on the Bible to view our entire catalog OR search for a specific keyword or scripture reference below.

Listen to and download these messages for free or order them on CDs for a small donation.
CDs may be ordered as audio CDs.


View or Print Catalog
(Uses Adobe Acrobat Reader)